Web Site Design and Development

The designing and building of web sites to give your business a presence on the internet. We provide custom built graphics, animations where applicable and overall page layout. If you require a logo, we can design one for you.
We do our own photography, if you require photos taken, and we will scan in any photos that you have. We will electronically transfer any documents you want posted on your web site as well as help you write up something if you are not familiar with what should go on a web site.
---
e-Newsletters

If you email your customers, you can now have these emails presented like a professional looking web page. You choose the font, colours, graphics, menus, web links and easily set up a much more appealing email for your customers to read.
---
Client Images

Do you manage a design and/or graphics company that frequently creates images for your clients? Does this process involve emailing your client the images and then they have to figure out a way to review these images? This service allows you to upload these images to a Review Web Page so that your clients can easily link to this page, see all the images and then send feedback on them individually.
---
Dynamic Messages/Announcements, Guestbook, Banner Text, Q&A's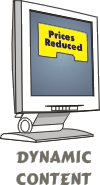 Add dynamic database driven messages to your static HTML pages without incurring the cost of custom development for this. Now you can add up-coming events, seasonal messages/sales or anything else whenever you want. You control how long the message appears, add an image and/or document (such as a PDF) with the message and/or links to other web pages. All messages are date driven so that you can pre-load messages for the year and then not worry about them again. Of course you can always go back and change any of them whenever you like.
Add a dynamic database driven guestbook to your static HTML pages without incurring the cost of custom development for this.
Add dynamic database driven scrolling text to your static HTML pages without incurring the cost of custom development for this. Have as many text messages as you like linked together. Each text message can have its own unique colour too.
Do your customers frequently ask you similar questions? If so, they could be displayed on your website with your personal answers. You can change the questions/answers as often as you like, giving your static HTML website a more dynamic feel and a motivation for your customers to visit your website more often.
Web Transcend offers these services for a low monthly fee.
---
Search Engine Optimization
What is the purpose in having a great looking website if it cannot be found by your potential customers? We design websites to be searched and found quickly. Any website designed by Web Transcend usually places on the first page, often near or at the top. Any ranking beyond the third page and most customers will not bother with that.
To prove we are as good as we say, search a couple of our clients who have been around a while. Some examples are:
"web development gta" to get our website for the Greater Toronto Area.
"truck training" to get the Ontario Truck Training Acadamy.
"jujutsu oshawa" to get the Musubi Dojo.